Welcome to Ralph and Loretta! Unfortunately, Ralph and Loretta are on permanent holiday. This most likely means forever! However, click on the banner right below this to come see our new comic called "Messianic Babies". Come sign up to be on our mailing list so we can notify you when we post new comics.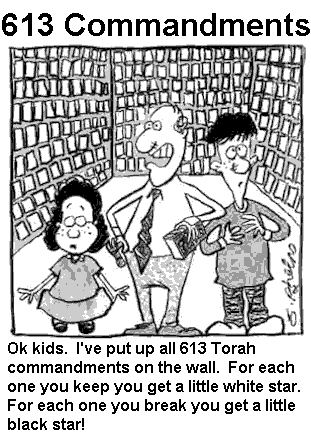 In the five books of Moses, or the Torah, are 613 commandments that God gave to Moses for the Jewish people to keep. There are 248 positive commandments and 365 negative commandments.

Click here to see a list of all of the commandments

Many Messianic Jews are Torah observant. They obviously cannot keep all 613 commandments because some are not applicable today. However, many of them can still be kept. Romans 10:4 states: "For the goal at which the Torah aims is the Messiah, who offers righteousness to everyone who trusts." The true believing Jew puts his faith in the God of Israel and trusts the God of Israel for his salvation in the same way Abraham did in Genesis 15:6, where we are told that Abraham believed God and it was reckoned to him for righteousness. After putting his faith in the God of Israel and trusting Him alone for his salvation, be would then see the Torah as being a rule of life for one who is already saved, rather than a means of salvation.


Click Here to find out more about Pastor Steve Phelps,
the cartoonist for Ralph and Loretta.

Click here to see a family portrait of Ralph and Loretta
Click here to find out more about Ralph
Click here to find out more about Loretta
Click here to find out more about Sid
Sunday June 6th 1999 - 10 Awesome Days
Monday May 10th 1999 - Dancing on Simchat Torah
Monday April 26th 1999 - Sabbath Cleaning
Sunday April 11th 1999 - Tower of Babel
Sunday March 28th 1999 - Messianic Music
Sunday March 14th 1999 - In the Garden
Sunday February 28th 1999 - Patriarchs
Sunday February 21st 1999 - Bible Books
Sunday February 14th 1999 - Love is Patient
Sunday February 7th 1999 - Hanukah and Christmas
Sunday January 31st 1999 - Messianic Dance
Sunday January 24th 1999 - Sabbath Candles
Sunday January 17th 1999 - Passover Wine
Sunday January 10th 1999 - Sick in Bed
Sunday January 3rd 1999 - Anti-Missionaries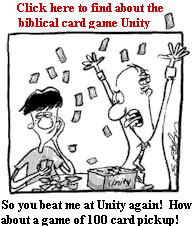 Links to other Christian Cartoons
[Home] [Creations] [About Us] [Links] [What's New] [Ralph and Loretta]

dan@oursalvation.com
Yeshuateinu Company
15127 NE 24th ST. Suite 145
Redmond, WA 98052